of Enchanting Star is my second sister, and she has certainly become one of my closest friends.
We started talking when I entered a LotR contest she hold, and I noticed that we're in about the same age. Then she went on hiatus, but we stayed in contact (we talked a lot and she's still the one I most talk to), until she asked me te to be her sister on June, 5th, 2005 at 18:22:02, after more than one year writing long e-mails, when she returned from hiatus. Actually I had wanted to ask her, but then she did before me! ;o)
She's a really nice, sweet and kind girl, and reading her e-mails always makes me smile. We can talk about a lot of things, like LotR, Star Wars, but also abut stuff like religion, life, my creepy stories and such. I think we've got lots of things in common, and that's why we're so close now. Emily is also my only friend from the U.S.A. and it really makes me think better of them!
Some of her dolls: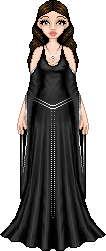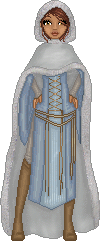 Sister Gift